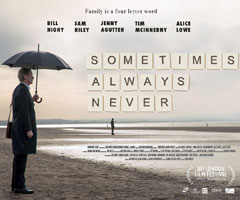 Sometimes Always Never
Sometimes Always Never - Featuring Bill Nighy premiered at the London Film Festival in October.
Starring Bill Nighy, Sam Riley, Jenny Agutter, Tim McInnerny and Louis Healy, Director Carl Hunter.
Sometimes Always Never is a drama about words and loss. It tells the story of family with an exceptional Scrabble vocabulary who cannot put their words to use and communicate with each other, and their journey to reconnect.